The Black Book Band Duty-Free Shop
---
Offered here as a convenience for friends and fans. None of us are making a living selling direct on the Net, or trying to.
---
Official Brain Weasels Tour T-shirt
The shirts are a heavyweight 50/50 cotton/poly with the BBB logo on the front and tour schedule on the back. White print. Original design by the band.

Sold Out!
Watch for the FIRST CONTACT T-shirt, coming soon!
Thumbnails of Tour T-Shirt Design --
Front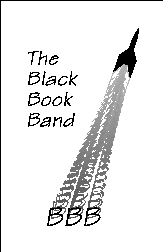 Back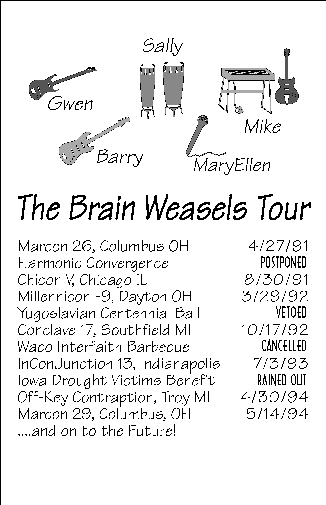 ---
Recordings and Songbooks from the Childs-Heltons at Space Opera House
Escape From Mundania tape
.....$9 + $1 postage
Escape From Mundania songbook
.....$5 + $1 postage
Paradox songbook
.....$5 + $1 postage
Orders for above: make checks payable to Space Opera House, 5271 Primrose Avenue, Indianapolis IN 46220
---
Return to The Bandwagon || K-Mac's Home Page
---