In the blockbuster tradition of HEIR TO THE EMPIRE comes this thrilling addition to the STAR WARS saga, as peace gives way to a dire new threat...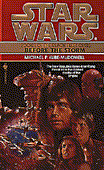 BEFORE THE STORM
It is a time of tranquillity for the New Republic. The remnants of the Empire now lie in complete disarray, and the reemergence of the Jedi Knights has brought power and prestige to the fledgling government on Coruscant. Yesterday's Rebels have become today's administrators and diplomats, and the factions that fought against Imperial tyranny seem united in savoring the fruits of peace.
But the peace is short-lived. A restless Luke must journey to his mother's homeworld in a desperate and dangerous quest to find her people. An adventurous Lando must seize a mysterious spacecraft that has weapons of enormous detructive power and an unknown mission. And Leia, a living symbol of the New Republic's triumph, must face down the ruthless leader of the Duskhan League, an arrogant Yevetha who seems bent on a genocidal war that could shatter the fragile unity of the New Republic...and threaten its very survival.
--back copy, advance promotion cover flat
---
STAR WARS
THE BLACK FLEET CRISIS:
Before The Storm

by Michael P. Kube-McDowell

A Bantam Paperback Original
Publication date: April, 1996
On-sale date: March 3, 1996 - On sale now!

ISBN 0-553-57273-3 $5.99

Also available in April: the BDD Audio abridgment, read by Anthony Heald,
with original STAR WARS music and sound effects. Two cassettes, 180 minutes total.
ISBN 0-553-47422-7 $16.99

---
Last Revised: March 1, 1996
---

Return to K-Mac's Home Page || Novel List || K-Mac's Bio
---
.